Shut Up ! Flower Boy Band (2012)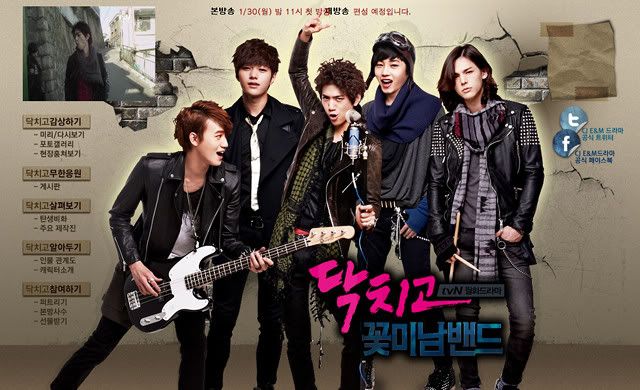 Drama Details :
Title: 닥치고 꽃미남밴드 / Dakchigo Kkotminambaendeu
Previously known as: 꽃미남밴드: 안구정화 (Flower Boy Band: Eye Candy)
Genre: Youth, romance, drama
Episodes: 16
Broadcast network: tvN
Broadcast period: 2012-Jan-30 to TBA
Air time: Monday & Tuesday 23:00
Synopsis
This is a story about a high school rock band and how they deal with friendship, relationships, and their passion for music.
Cast
Jung Eui-Chul as Yoo Seung-Hoon (leader of band Strawberry Fields)
Lee Min-Ki - Legendary rock musician Byung-Hee (vocals cameo)
Production Credits
Prodution Company: CJ E&M Corporation
Director: Lee Kwon (이권)
Screenwriter: Seo Yoon Hee (서윤희)
Official Website :
Shut Up! Flower Boy Band
Trailer
Download Link
Torrent :
Shut Up ! Flower Boy Band 16 Episode Full
OST
Ost Part 1 Shut Up Flower Boy Band
닥치고 꽃미남 밴드 Part 1
Artist/s : 이민기 (Lee Min Ki)
Genre : OST > TV
Label | Publisher : CJ E&M
Release Date : 2012.02.06
Tracklist:
01 Not In Love
02 Not In Love (inst)
Flower Boy Band: Shut Up Ost part 2.
Song By: Sung Joon
Tracklist:
01.Jaywalking (무단횡단)
02. Jaywalking (instrumental)
Flower Boy Band: Shut Up OST Part 3
Song By: Kim Min Seok
Title: 어쩌다 널 ( How come )
Released date: 02/02/20
Composed and Lyrics by: lee Jae Hak
Tracklist:
01: 어쩌다 널
pass: howcome
02. 어쩌다 널 (instrumental)
Flower Boy Band: Shut Up OST Part 4
Singer: Sung Joon ( 성준 )
Song Writer and composed by: Lee Jae Hak
Released Date: 03/05/2012
Tracks list:
01: Wake up
02: wake up (instrumental)
OST part 5 Flower Boy Band
Title: Love You Like You
Release date: March 12
Duet Kim ye Rim and Infinite's L (Kim Myung Soo)
Love you Like you
password list :
wakeup
Yerim&L
tomo_kumvau
howcome
credit : http://idws.in/222687